[New Guide] No one seems to agree when the shortages of chips, resin, and other elements will resolve—many experts are tipping at least 2-3 years. For impacted IT Solution Providers and Resellers, delays, piecemeal deliveries, and outright cancellations are aggravating and cost money and customer loyalty. In the interim, how can you keep your customers happy?

We can help! Check out our new guide, How To Manage Technology Supply Chain Issues, where we dive into the HPE-certified resources many are unaware of.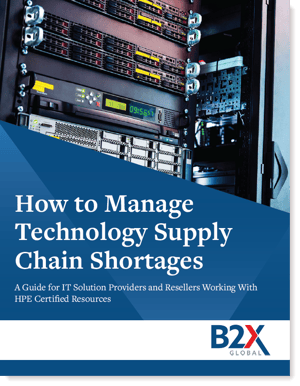 Use our guide to learn how to:

- Find the HPE parts you need by rounding out your resources - Access HPE's Certified Pointnext Services Channel

- Support more projects despite supply chain disruptions

- Optimize your internal supply chain

- And much more!


While others are playing catchup and losing deals, learn what HPE has established to complement your primary distribution for products and HPE engineering and sales support!