It's not news that our supply chain is in a crisis. The pandemic rocked a significant blow, and things still haven't recovered. What can you do if you are experiencing disruption to your current distribution pipeline or are looking for a plan B to prepare for inevitable delays? You may think your avenues are limited, but there are more HPE Authorized parts than most resellers are aware of.
General Distributors vs. Replacement Parts Distributors
General Distributors
General Distributors use economies of scale to supply entire business lines with the products needed to run that business line's IT needs. Those projects are often large and complex and can require months of planning and lead time to ensure that new products from manufacturers are available and ready to be shipped to customers.
That means when you need products in days instead of weeks or weeks instead of months, your General Distributor may not be able to provide that to you. Or, if you need a discontinued or end of life product, you may be out of luck with General Distributors, who routinely deactivate those part numbers from their catalogs and data feeds.
Replacement Parts Distributors
Replacement Parts Distributors are also authorized by HPE and have their own dedicated supply of products as part of HPE's overall Global supply chain. They are invaluable for resellers who cannot obtain needed parts from their traditional distributor due to lead times or where a part falls on the product life cycle. An authorized replacement parts distributor like B2X is essential to your distributor ecosystem and adds diversity to your own supply chain.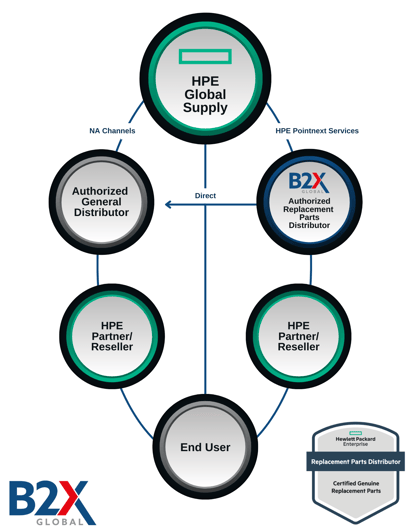 HPE Pointnext Channel
B2X Specializes in Replacement Parts
Competing North American distributors sometimes get their products from the same source, and if one part is out of stock, it may be out across the entire North American distribution channel. Their business relies on keeping their shelves ready for new products. It doesn't make sense for them to focus on replacement parts.
It does make sense for B2X. Its position in the Pointnext Channel means they have what you need using those HPE Genuine Replacement Parts. B2X stocks new, certified HPE Genuine Replacement Parts and maintains an extensive catalog of products anywhere in the product life cycle.
The following two customer examples demonstrate how B2X can fulfill orders when traditional distributors can't help.


Customer Example 1: When Everything Hinges on One Product
Sometimes when one product is unavailable, it can hold up an entire project. That was the situation a national solution provider found themselves in during a recent IT upgrade.
They were rolling out drive upgrades to servers across the country for their client. But a lack of SAS expanders meant the entire project was held up with new hard drives and server racks cluttering up offices and server rooms. Their primary distributor was out of stock and could not guarantee when they would receive more.
The account manager needed to find 81 SAS expanders fast. The manager turned to B2X, who had 50 HPE certified expanders immediately available. B2X then procured the rest within a week from the Pointnext Channel, saving the IT upgrade rollout from costly delays.


Customer Example 2: Keeping Systems Running When Products Are Discontinued
What happens when an End of Life part needs to be repaired or replaced? General Distributors do not hold valuable warehouse space for products at the end of their lifecycle or even keep the part numbers active in the catalog and data feeds. That's not their business.
You need someone who can supply you with products and even provide extended service life beyond the North American Channels and their General Distributors. B2X provides the HPE products you need no matter where a product is in its lifecycle.
One example of this involved a partner providing services to the U.S. Military. The partner needed to supply their client with network adapters that HPE had discontinued. To provide a quote for the parts and installation, they reached out to their primary distributor, who could not help them with a discontinued product. Without their main channel working properly, they could miss the deadline to submit their bid.
The partner called B2X and, within an hour, received a quote that enabled them to submit the rest of their proposal. The quick action from B2X allowed the partner to win that bid and supply the military with the necessary parts to fulfill their mission.
These examples show how HPE Genuine Certified Replacement Parts can help your business at different stages in the procurement process. HPE Genuine Parts keep your business running as you work to improve and maintain your customer's critical IT infrastructure.
Rounding Out Your Distribution Ecosystem - Be Ready for Anything!
It pays to be prepared. Or rather, it saves to be prepared. To learn more about how to round out your resources and support more projects, check out our new guide, How to Manage Technology Supply Chain Shortages!