We recently brought together HPE and B2X leadership to a live digital event where we did a deep dive into the product lifecycle, discussing solutions and suggestions on how to optimize the lifecycle with our wider network of partners. Below are some of our key learnings.
In a world where technology is evolving faster than ever, one framework remains unshakeable: the IT product lifecycle.
One way or another, enterprise operations eventually encounter – and maneuver through – the product lifecycle. Maybe a new product is entering the market, and it promises to transform your client's business. Or, perhaps a business-critical product is reaching maturity, and you must understand how to maintain or replace it.
Either way, understanding the IT product lifecycle is imperative to smooth business operations and effectiveness as a technology advisor.
Standardization And the Enterprise Lifecycle
The inception of new products drives the IT product lifecycle, and major manufacturers like HPE have deep product roadmaps and sophisticated supply chains to support customers throughout their IT journey.
First things first – the enterprise and consumer product lifecycles are significantly different. This is a result of many factors, but primarily because of the standardization and long-term support needs of enterprise products. Once designed, IT departments want to keep their functioning standard in place. Testing out new products is a bad idea in a production environment – therefore, standards are developed before products are purchased and deployed.
The opposite of this would best be shown through the release of a new iPhone. Consumers line up outside the Apple store to purchase the latest, greatest and completely unproven product. For the consumer – this is okay. The thrill of new and innovative is worth the risk of unexpected glitches from this new device. Again – contrast this to enterprise environments, and the risk far outweighs the excitement of new.
Visualizing the IT Product Lifecycle
The two graphs below show this in visual detail. We've used two of HPE's most popular product lines, the ProLiant Server family and MSA storage line. First, notice how long and slow the introduction phase is. This is due to the testing and validation that large enterprise customers require upon release. No product can enter their environment without being heavily tested and vetted first.
The Growth stage picks up steam quickly and before we know it – this product is not only allowed, but required in many customers' IT stack. Demand stays very high through the Maturity phase, and then it finally begins to tail off after the product is announced as EOS (End of Sale). The Decline phase could last for many years as customers continue to support the installed and proven infrastructure.
HPE ProLiant Servers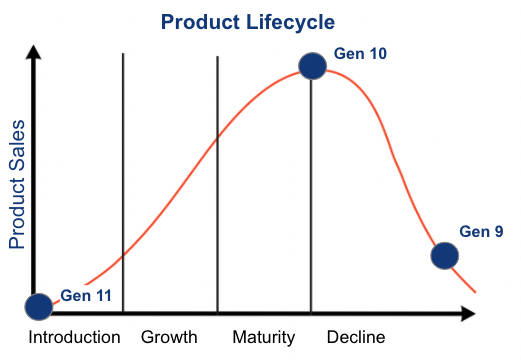 HPE MSA Storage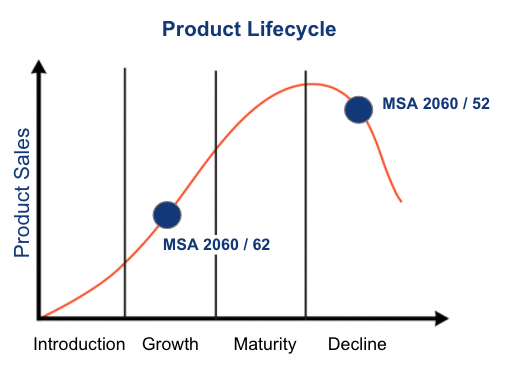 To better understand this cycle, we reviewed a glossary of common (yet often misused) terms.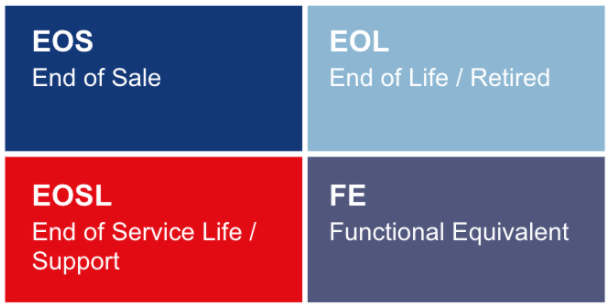 EOS, EOSL, EOL
Importantly, we see the two major milestones – EOS (End of Sale) meaning the product is no longer promoted by the manufacturer and is traditionally pulled off the shelf of many distributors. EOSL (End of Service Life) is the next major milestone where all the manufacturer's support contracts have ended, and it no longer provides 24/7 support. The period between these two moments is called EOL (End of Life) and traditionally lasts 5 years. This timeline is often driven by support contracts in place on the products previously sold.
What's FE?
The final term introduced here is Functional Equivalent. This is a specific term to the HPE ecosystem and is a program designed to ensure that customers have valid equivalents to deploy, in the case that the particular SKU they've asked for is no longer manufactured. Through this program, HPE can continue to support servers and storage arrays 5, 8, 10+ years after their EOS date. For more information on this concept, we interviewed Alan Wheatley, Manager of HPE's RPB business unit.
Takeaways
As we unpacked supply chain complexities in our deep dive, the primary takeaway became simple. You can think of it in two parts:
The inception of new products drives the IT product lifecycle.
Major manufacturers, like HPE, provide deep product roadmaps and sophisticated supply chains, which are designed to support customers throughout their IT journey.
Though our takeaway is simple, the supply chain is complicated. Rarely does it behave as originally forecasted. Supply-and-demand pressures throughout a product's existence will drive its adoption, standardization, and eventual retirement. This dynamic nature makes the lifecycle hard to predict and manage.
The answer to this challenge rests in an organization's supplier network. A single-supplier strategy will often lead to unwelcome surprises, delays, and a shortened service life of infrastructure investments. Protect those investments with a specialized supplier that lives the supply chain, provides flexibility in the face of unpredictability, and works daily to prevent those issues.