The HPE ecosystem can be complicated and confusing to navigate. Modern IT infrastructure requires dozens of separate components to implement the right solution, even for moderately sized organizations. To help keep companies supplied with the right technical resources, HPE partners with multiple distributors to ensure resellers and their customers have what they need to modernize their infrastructure.

Among those are companies like B2X Global, which operate as authorized distributors of genuine HPE replacement parts via what's known as HPE's Pointnext Services.
Here's how companies within Pointnext fit in the HPE ecosystem and the value they provide to IT Solution Providers, the organization they support, and the accompanying supply chain challenges.
HPE Product Access
You can access HPE products from several different distributors, but not all of them may be ready to provide the right product when needed. So who do you buy from and when?
Here is a visual that conveys traditional distribution channels and HPE Pointnext Services. You have the traditional distribution channel with your authorized general distributors, and the Pointnext Services includes authorized replacement parts distributors. Each serves its purpose in the HPE supply chain.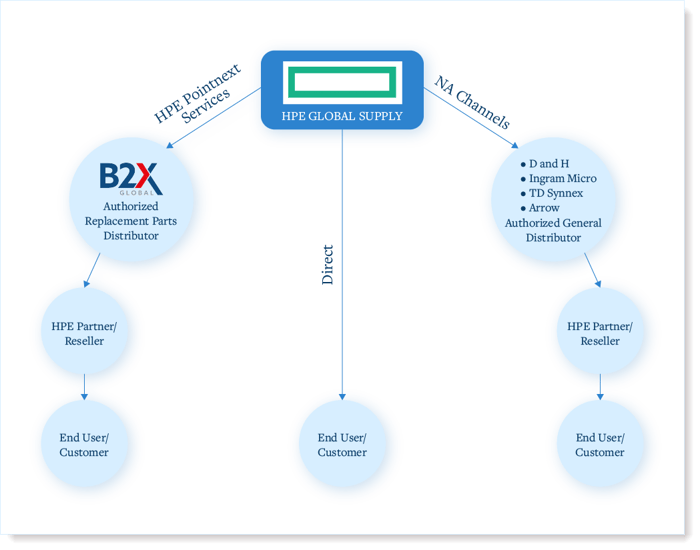 How Replacement Parts Distributors Fit
B2X only provides HPE Certified Genuine Replacement Parts no matter where it falls in the product life cycle. Buying from them means you don't put your product warranty at risk or risk dealing with counterfeit products like when you purchase from an unauthorized source.
IT Solution Providers and Resellers use B2X Global to help secure parts to support systems and projects already deployed in the field. Do existing servers need more memory? Does a storage array need more drives? Were SFPs and additional cables not spec'd in correctly to a recently deployed project? All of these examples are when IT Solution Providers and Resellers should turn to B2X Global for products and help.
Why Buy from a Replacement Parts Distributors
B2X gives IT Solution Providers and Resellers:
Product availability - We have a pulse on the supply chain and access to everyday stock as well as mission-critical and end-of-life stock that may not be available through your broadline distributors.
Expertise - Our product experts know what stock is currently available for your upgrade or repair and what will work best to complete the solution.
Fast Quoting - We have seamless connections with reseller quoting software tools like VARCommerce and ChannelOnline.
A key value of partnering with companies like B2X, is that you round out your options, helping you close customer deals.
As Platinum Partner M2 Technology's Account Executive Tyler Thompson explains:
I always just stuck to our standard supply chain. I'm in standard distributors, and if they didn't have it...I didn't really venture far out of that because...I didn't know (there was) another viable option. So I would always just deal with those lead times and try to set customer expectations.


HPE Preferred Replacement Parts Distributor
Understanding how B2X has distinguished itself within the HPE Authorized Reseller Ecosystem is vital.
B2X is a preferred replacement parts distributor with products in stock and ready to ship. The distributor works with current, end of life, and constrained products with special access to better discounts on certain parts. That means higher margins for you when purchasing products for your customers.
B2X has a wide range of HPE compute products. That includes drives (spinning disk and solid state drives), memory, network cards, controllers, power supplies, and all the cables and other peripherals used for modern IT infrastructure.
All of these items are certified genuine HPE parts, and you can buy them with the confidence that you are buying authentic HPE parts. With B2X, you can be confident you have the right products.


What Do Other B2X Customers Say?
Michael Genn, Account Manager with STN, Inc., credits B2X's speed of delivery, technical expertise, responsiveness, and pricing for helping to meet last-minute client demands—all of which are high-value benefits in the current supply chain environment.
Genn says he came to B2X after being introduced by their dedicated inside HPE channel manager during a parts emergency. Genn said at the time, a large retail customer needed parts immediately, however, their traditional sources, HPE Distributors through HPE Direct, indicated lead times of several months. HPE introduced STN to B2X, an HPE Certified Parts Distributor, and STN was able to get what they needed within the week.



N
ext Steps
With supply chain issues disrupting how smoothly you quote, complete, and bill jobs, it is critical to have a distribution arm that carries its own HPE-designated stock of current catalog and EOL products. Learn how to round out your resources and support more projects despite supply chain issues in our new guide, How to Manage Technology Supply Chain Shortages!